***
Hey Thomas,
Thank you so much for EVERYTHING on tour last week. Over and above everything else you did and organised, you making sure I had the food I could eat was AMAZING.. I honestly expected to just eat rice all week, and instead I LOVED the food, the people, the country in general. You made so many little things happen for all of us, that added up to a seamless trip. I for one will be back, Japan and all it guises charmed me to the core.
Yes my lovely Belgium HED wheel is dead, I have already ordered a new rim.. but if that is the worst thing that could have happened on tour, then that isn't too bad. I'm grateful you had a spare to lend to me to finish off the last day.
I have recommended you to all my cycling buddies, so hopefully you get all your tours filled to the brim with nice people.
Thanks again.. you are awesome
Bianca, April 2018
***
Thomas,
I can safely say, on behalf of the 30-32 riders, we have had the most amazing time riding around Kyushu. You managed, supported & guided us (always with a smile) thru a part of the world that you are truely passionate about (and I can see why). Thanks again for an amazing, life changing trip!
‎Ash Bassett, April 2018
***
Hi All! It was so amazing spending the week biking with everyone. Best time of my life.
Lily Sloane, Nov. 2016
***
Hi Thomas and Everyone!
I had such a blast cycling with you and everyone on the tour. I can't stop talking to my friends as well as colleagues at work about how amazing my experience was, from the picturesque, diverse landscape of Kyushu to the gourmet dinner every night to the great company I was with. While writing a review on TripAdvisor, I was re-experiencing the wonderful memories of the tour.
Tony Tran, Nov. 2016
***
Thank you Thomas!
That trip was one of the best I've been on in years! Great people, great scenery and great roads! We all had so much fun!
It was great to meet you and everyone on the trip! I can't stop gushing about Japan, the cycling, the food and the good company on this tour. What a fun time! Hope to talk with you all soon.
Pamela Pappas, Nov. 2016
***
Congratulations to Pete & Kristina who just finished their Length of Japan tour. Here is their highly entertaining blog.
Oct. 2016
***
Thomas and Yuko We had a wonderful time in Japan .Everything went well. The bike routes you had on GPS where perfect and the scenery was magnificent.Love the Japanese cuisine .The Onsen at Onoaida was to me the best .
Yakushima very special place.. Thanks for all the planning you did. Will recommend "Japan biking" to all my friends and anyone that want to bike in such a wonderful country.
Thanks for excellent service.Will return to Japan again and have you set up another bike tour. Casey McLaughlin, Oct. 2015
***
The trip was very interesting and enjoyable on a number of levels, including that I saw areas that I would never have seen on my own and I truly experienced Japanese commendations, food and hospitality.
Thanks so much for a TRUE ADVENTURE!
Dan Culver, Sep. 2015
***
"The tour officially ended that evening, with a last celebratory meal together in Izumi. We also got out a bottle of Shochu to toast the fair Nello – it was her birthday and if you can't celibrate with old friends, what better way than to celibrate with new friends. Thanks Helen and Kevin, Con, Steven and Joyce, Mandy, Ross and Abby, John and Hui, Maeda-san and Thomas – you were a great bunch of people and we enjoyed your company. Finally, special thanks to Thomas and Yuko for plotting out and organising such an interesting and diverse ride – great scenery, great food and plenty of challenges. It was an excellent beginning to our time in Japan."
Cherry Blossom Hot Spring Tour, March 2015. Read David's excellent tour report.
***
Congratulations to the Worman Family who just finished their epic Length of Japan tour on two bikes and a tandem. After stripping the tandems freewheel, they purloined an old MTB back wheel to limp 100 km into Kumamoto where they honestly purchased a new wheel for the last stretch to Cape Sata. End good, all good !
We designed their route and arranged part of the accommodations. Here is their highly entertaining blog.
Nov. 2014
***
Hi Everyone,
We did have a great bike ride and thanks to you all for the good company and fun time."
Cheers, Carolyn & Noel. Nov. 2014.
***
Dear Thomas,
Anna-Léa already said a lot, but I would like to also give you my feedback.
The GPS was great, always accurate and giding us through big roads as well as much, much smaller ones. We asked ourselves more than once if the road was actually leading anywhere…
The hotels were all very nice and sometimes very surprising as we would never have thought to find such nice hotels in such lost areas.
In the end we were really tired and really happy to meet up with Shiro in Matsuyama, but mostly really happy with our trip and all the things we had seen along the road.
Best regards,
Antoine & Anna-Léa, October 2014.
***

One tour I highly recommend is the Cherry Blossom Hot Springs Tour with Japan Biking. The cherry blossom seasaon is a must-see but the reds and golds of autumn are equally spectacular.
Bruce Robertson of Cycle Tours Global, June 2014.
***
Hi There Thomas & Tommy
We just want to thank both of you for making our Japanese holiday even better than we thought it was going to be
Without both your help we would not had the holiday that we had. The birds were great. The accommodation was great. The food was amazing. The bike riding was fabo and Thomas – you showed us how how to use the cars gps. without that piece of gold we would have driven in circles or driven many miles and been very lost. The fact that we made it beyond Izumi and to our desired destination beyond that was incredulous – and could not have done it with out your help. Thomas – you helped us find our feet. To boot we saw you on TV whilst having breakfast with Kioyki from the crane conference.
Tommy – we really appreciate your patience with organising the trip and for linking us up with Thomas and providing the background info on the birding around Kyusho/Izumi/Kagoshima prefecture. Both Sue & I really enjoyed our holiday. Thanks for linking us up.
We will spread the word
Thanks for introducing us to Izumi and the cranes
Hank & Sue, January 2014.
PS: we are coming back
***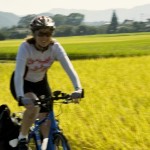 "Our self-guided tour in Kyushu through Japan Biking was the highlight of our visit to Japan. The scenery was some of the most gorgeous that we have ever experienced: country roads through rice fields, along beaches, through forests, by tea plantations, and to splendid vistas of nearby islands. The people were also extraordinary: unparalleled hospitality in each ryokan, delicious food (even vegan food, which can be hard to find in Japan), and consistently courteous drivers on all the roads. Thanks to the hot springs we indulged in every day, we were never sore. Even the roads were of an amazing smoothness that we don't find at home! And navigating with the GPS system went well–we loved the notes telling us to stop along the way at a Shinto shrine or an impressive cave. We are grateful to this country and to Japan Biking for an experience we will never forget."
Avilio & Michelle, Sept. 2013.
***
"Thomas did a great job with picking our route. We rode on lots of little roads that were in excellent condition."
"The Hitoyoshi Ryokan was our favorite. Built 80 years ago and run by the third generation of the same family, it was recently named a Japanese National Treasure."
"We highly recommend Japan Biking company. We did a custom self-guided tour which means we told the owner Thomas what we wanted to do and he organized it all (made hotel reservations, set up our bikes, and gave us a GPS with the route). There's more info at
http://www.japanbiking.com/tours-2/self-guided-tours/
"
Kristina & Pete, September 2013. See their excellent blog post with many pictures.
***
"Thanks for your help. I had a trip of a lifetime."
John, April 2013.
***
"I took the Cherry Blossom Hot Springs Tour and it was a wonderful and a lifetime experience. We bike in the country site of Kumamoto and Kagoshima prefecture and the landscape was incredible. The tour is super well organised by Thomas the owner. Sleeping in Ryokan/Onsen was memorable. The food/meal were incredible, good , tasty and Japanese. I recommand this tour and thinking to take another one if i come back in Japan. This is a must do if you bike. Visited April 2013" Benoit
***
"Leaving the river behind, we climbed through small villages, then steeply up hairpin bends along the almost deserted route 60. We surprised a man standing in a layby singing energetically, practicing his scales assisted by the fine acoustics of the steep valley sides; perhaps training for his next karaoke session."
Martyn's excellent
write-up
of their self-guided tour. April 2013.
***
"Our guide asked the other teenager if there was another restaurant in town she pulled out her phone and then ran off down the road. Next thing we were all invited to her parents home and seated in the garden to eat fish, tempura, rice and other delicacies. Including hot coffee."
Read Sara Ettlinger's Cherry Blossom Hot Spring Tour
Report
. April 2013.
***
"Waking up in the peaceful tea estate we enjoyed breakfast with very fresh eggs from the farm and went for a visit to the tea processing center and to see the natural weed eaters for the tea bushes – goats. We bid farewell to our hosts and it was a nice downhill start of the day towards the city of Kagoshima."
Cycling Colourful Kyushu Island with SpiceRoads. April 2013.
***
"The trip was well structured and became particularly enjoyable on day two ie. once we were clear of the Kamamoto urban sprawl and we got to experience rural Japan. The combination of Yuko and Thomas worked well; both were knowledgeable and patient. Distance and terrain were relatively comfortable and within expectations. Morning briefings gave us a good understanding of the day's ride. The trip was made all the better by the excellent weather."
John and Elizabeth Robinson, Cherry Blossom Islands (for SpiceRoads), April 2013
***
Read Scott Fletcher's Satsuma tour
blog entries
. With great pictures !
***
***
***
"Hi Thomas. Our trip was fabulous– maybe the most beautiful and well marked bike trip I have done anyplace."
Terry, September 2012
"On our trip overall, the vast majority of our riding has been on roads, but bike paths have been very helpful when we've been in or close to urban areas. We're very grateful to Thomas Holvoet of Japan Biking, who charted out a great route for our entire trip. His knowledge of biking in Japan allowed him to find the best roads and bike paths everywhere we went."
***
"Hi Thomas and Yuko, Things are working out very well. We managed to find bicycle bags at a NAFCO in Kitakyushu, so we could pack our bikes into the bags and carry them on to the Shinkansen from Shin-Shimonoseki to Hiroshima. We made it to Hiroshima for lunch, so we had the whole afternoon to sightsee. Thank you so much for booking our hotel in Hiroshima right at the train station.  That was great!  We just carried our bikes, still in the bags, to the hotel and then back again this morning to take the train to Kobe. We just had tonight's Kobe beef dinner.  Excellent! And our hotel location here is perfect, right in the heart of the city. Thanks, Carol"
***
"The whole journey is great, Kyushu is a great place to cycle.  Thanks your planning, I will recommend more my friends to cycle here.  Hope someday see you soon, cycle In kyushu again or you come to hk. Thanks."
Henry, Hongkong, May 2012.
***
"What beautiful country side and sea side to cycle around, and the people were so kind and generous, we really enjoyed ourselves thank you.  Total trip was 260km, but we cut it to 4 days, as the wind and rain got us!"
Tom, England, April 2012.
***
"By the way I think you have Japan's best kept secret here … Such a wonderful way to see the untouched beauty of japan!"
Chesna,  Australia, April 2012.
***
"This place is a hidden gem, especially for bike touring. Fantastic roads with virtually no traffic, soothing baths and unforgettable food. What more can you wish for ?" Paul Nigg, USA, April 2012.
***
"The hotel in Izumi arranged by Thomas was nice with its own mini onsen (spa room with hot baths). Thomas and his wife took me out for a lovely meal on the first evening.
Yuko made me a wonderful breakfast in the morning – rice, vegetables, meats. We then sorted the bikes and had a test ride to look at some ancient samurai houses in the neighbourhood. After some tea back at the house, we set off."
"Well what can I say in summary at the end of the trip. So many highlights: the Ryokan – especially the landladies(!), the fishing village we stayed in, the beautiful narrow mountain roads, the lovely coast which varies hugely between craggy cliffs and quiet sandy beaches, and the friendliness of the Japanese. Thomas was an outstanding guide – almost always out in front as windbreak, and having done lots of route planning to take the smallest and prettiest roads. I would love to come again and do another route."
Toby Strauss. September 2011. Read his full
report
.
***
"Izumi is a small town so we weren't worried about not finding Thomas, our bike rental man. However, finding him wasn't as easy as we'd expected. We had his address and phone number so our first strategy was to look for a town map (our atlas wasn't detailed enough for finding a specific address in a small town). This led us to the information desk and ended up engaging the woman who worked there and some other people who I'm not sure worked there but might have been friends or relatives but might also have just been fellow town citizens who happened to be at the train station at that time. Anyway, there was much phone calling (Thomas hadn't answered his phone when we tried calling him directly as he was busy teaching an English class) and looking at a town map as the tourist information woman and another man tried to find out where Thomas lived. Addresses in Japan are not exactly straight forward as the numbers correspond not to a geographic location but to the order in which the buildings have been built. So even people who have lived in a town for a long time might find it difficult to locate a house just from its numerical address. In the end, they found someone on the phone who knew where Thomas lived, and the woman and man drove us in her car (thoroughly decorated with stuffed animals) to his house! We were, of course, incredibly impressed with this high level of assistance!
More preparations
We found Thomas just returning from his teaching lesson and he welcomed us into his house. He and his wife, Yuko, were incredibly hospitable especially considering she was due a week later to give birth and was in the midst of getting her driving license before the baby arrived. So it was not exactly a stress free time for them, but they shared delicious food with us and let us sleep in their spare room, thereby delaying our entry into the camping-in-the-rain life that was to ensue. We spent two nights with them, which gave us time to get ourselves and our bikes organized for 31 days of biking."
Jennifer and Machiel. Izumi to Kyoto – May-June 2011. Jennifer's great write-up
here
.
***
"Thomas and his wife Yuko are great people, and they now live right in the middle of an ancient samurai area, which Thomas was kind enough to show me around. Thomas also knows a lot about cycling…which was pretty handy as I was on a cycling trip. :)" Tom Dylan, UK, Oct. 2010.
***
***
"The next day we cycled over small roads to the ferry. A nice ride, partially along a forest road across the mountains joining finally the route along the sea. The lodgement in Hondo was perfect: friendly, excellent dinner and onsen." Benny Van Bruwaene 6 people group. October 2010. Full
report
.
***