A visit to Japan is pure indulgence to the senses, even more so during cherry blossom season. Ride along scenic sea coasts, rushing rivers, rustling bamboo forests and majestic mountains as well as futuristic architecture and transportation. Sample delicious regional cuisine, meet polite and candid locals and soak up after a day of cycling in zenlike onsen spas. This Cherry Blossom Onsen Tour combines the very best of biking and bathing.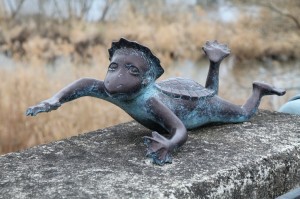 Duration: 6 days / 7 nights, 265- km
Season: From 1 September til 31 May. Private guided tours upon request.
Calendar. If the tour is not scheduled or the dates in the calendar don't suit your travel schedule, please contact us for a private or custom tour for you and your group.
Start & End: Hotel Toko in Izumi, Kagoshima, a 5 min walk from Izumi Station. You fly in/out via Kagoshima Airport or you arrive at/leave from Izumi Station by shinkansen.
Level 2. From Izumi you ride on rolling roads along the Shiranui Sea, the 'Mediterranean of Japan'. Then inland along Kuma river to Hitoyoshi (100m). A 18km gentle climb out of the Kuma valley to cross the Kumamoto – Kagoshima prefecture border at Yatake station (693m). Down into Sendai river valley and further downstream along the river to Shinyudabashi bridge. Out of the river valley for the last climbs up Horikiritoge Pass (645m) and Torigoe Pass (505m). Cruising back into Izumi.
Rental Bike Details
Price
Booking
HIGHLIGHTS
Picnic under cherry blossom trees
Visit a tea farm and miso factory
Enjoy exquisite Japanese cuisine
Wave the cranes goodbye in Izumi
Sprint against a steam train
Stroll in noble Hitoyoshi

Soak in onsen hot spring baths

See the sun set in the Land of the Rising Sun
Hear the ocean crash on rugged shores
ITINERARY
Day 1: Izumi – Yunoko Onsen (43km)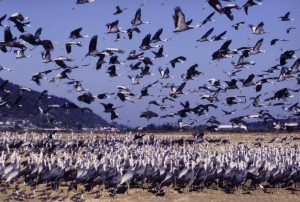 After fitting the bikes we make a test ride around Fumoto. It is the largest samurai residence preservation district of the once powerful Satsuma crown. Two residences are open to the public and offer a glimpse of old Japan. Once the bikes are approved and after a traditional tea ceremony we are on our way.
Just like the cranes that winter in Izumi. With the blooming of cherry blossoms they decide it is time to head back to Siberia. A truly spectacular sight to see them circling high in the air. We wave the cranes goodbye and ride north along the coast to Minamata, famous for its sweets. Snack time ! Manju is for Japanese cyclists what rice tart is for Belgian cyclists.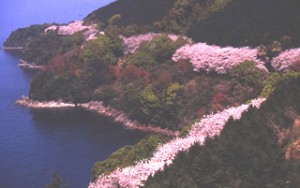 This stretch of coast is called the 'Mediterranean of Japan' with views not unlike Italy's Amalfi coast. And what is more, this coast is even dotted with cherry blossoms in full bloom. We stay in Yunoko Onsen for a bath and a marvellous sunset over Amakusa Island.
Just off the coast, connected with the mainland by a bridge is Yunoko Island, a small island with walking paths and a small shrine on its summit. A walk around the island is particularly memorable after dark during high tide, when waves and insects can make for an Indiana Jones like adventure.
Day 2: Yunoko Onsen – Hinagu Onsen (54km)
It continues along the Shiranui Sea. Ashikita Beach and Mitachimisaki merit a stop.

We dance a tango with the little railroad and without noticing we arrive in Hinagu onsen. This hot spring dates approximately 600 years back. During the Edo era (17th-19 centuries), it was designated as a hot spring run by the Hosokawa domain of Kumamoto. This historic hot spring was even loved by the lord of the Yashiro Castle as well as the lord of Shimazu who temporarily resided in the area. Even today, there are many buildings here that continue to depict the days long past. From the Hinagu Onsen Jinja, a shrine where the god of the hot spring is enshrined, a sweeping view of the hot spring resort and the Shiranui Sea as well as the islands of Amakusa and Shimabara in the distance can be seen. At our ryokan we enjoy deliciously fresh seafood dishes.
Day 3: Hinagu Onsen – Hitoyoshi (70km)
The mountains give way to the wide Yatsushiro Plain.Soon we are nearing Yatsushiro City, the second biggest city of Kumamoto Prefecture. If your legs feel good, you can walk up the 777 steps. If not, we make a shortcut avoiding the city.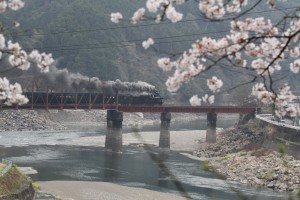 From here the route leads inland, gently upstream along Kumagawa river into the mountains. The river banks are lined with cherry blossoms. If your legs still feel good, you can sprint against the smoke belching steam locomotive.
Kyusendo Cave has been a mysterious place for 300 million years! The seven uniquely shaped domes next door house the Edison Museum and the Forest House. The places have been closed for a while. In the past you could learn about the system of the surrounding forests. In the Edison Museum there are over 2,000 inventions of master Thomas Edison.
We approach Hitoyoshi and see the typical rafts on Kumagawa's famous rafting water. Hitoyoshi is a castle town once prosperous as a river port, where lumber was collected and distributed. But now it is time to relax in one of the 80 onsen.
Day 4: Hitoyoshi – Yunomo Onsen (43km)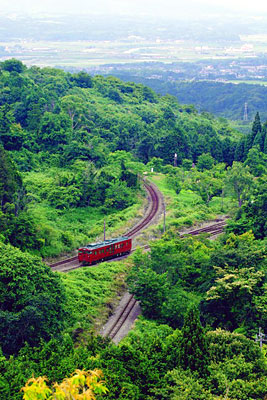 After visiting Aoi-Aso-jinjaShrine and the ruins of Hitoyoshi Castle, it is time for our first climb of the trip. We ride along the Hisatsu Train Line connecting Kumamoto and Kagoshima prefectures, opened in 1909. The route through the mountain pass was chosen for national security reasons as it shielded trains from bombardment by enemy ships off the coast. But construction of the railway route across the steep mountain was an unprecedented project requiring a high level of skill. State-of-the-art railway techniques were used to build the loop and switchbacks as well as more than 20 tunnels. We might catch a glimpse of the Isaburo-Shinpei sightseeing train with its retro-style interior, that travels between Hitoyoshi and Yoshimatsu stations twice a day.
We crest the 693m pass after Yatake station. From there we plunge into the Sendai river valley. In Kyomachi Onsen it is time for lunch. Then we follow the old tow path downstream along Sendai river. This is the Land of Kappa, a legendary creature living in the river. The tow path continues all the way to Yunomo Onsen. We stay in a ryokan with a fantastic rotenburo open air bath.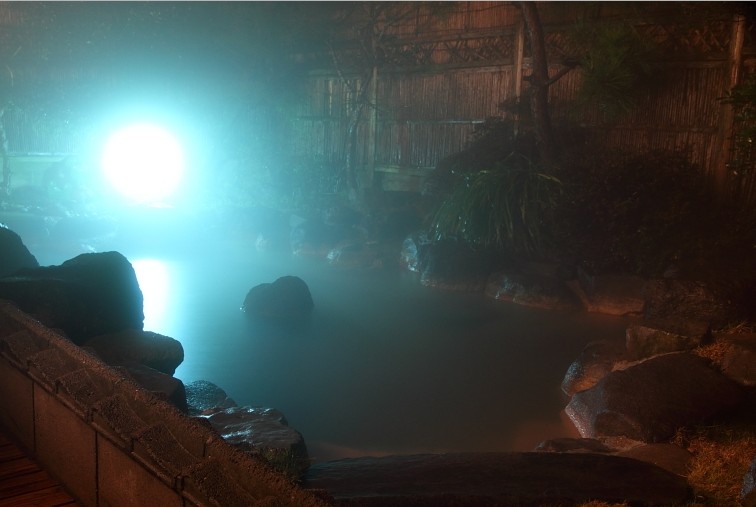 Day 5: Yunomo Onsen – Shibi Onsen (52km)
Today starts with a visit to the Soginotaki Falls on Sendai river. We continue and see the ruins of the Soginotaki power station peaking above the water. The power station was abandoned when Sendai river was dammed by Tsuruda Dam to form Otsuruka lake. The lake is lined with cherry blossom trees. It leaves us breathless. Time for a bath in Shibi Onsen.
Day 6: Shibi Onsen – Izumi (40km)
A good breakfast to attack the last climbs of the trip. A little warm-up ride to digest our breakfast before tackling Horikiritoge Pass (645m) and Torigoe Pass (505m). From now it is all downhill along clear streaming Tahiragawa river. After an unforgettable cycling adventure we are back in Izumi.
Read David's excellent tour report.
Onwards…
– Explore the bright city of Kagoshima and do some souvenir hunting.
– Set out to UNESCO world heritage Yakushima, a subtropical island 4 ferry hours south of Kagoshima. Yakushima makes for some great hiking or biking.
– Head straight to Izumi shinkansen station to continue your travels.
– Transfer to the airport for your domestic flight from Kagoshima to Kansai International Airport.