Japan is rife with sightseeing spots and the Japanese people love them dearly. There have been tourist guides and top 3 lists since the days of yore. Here is a list of personal favourites.
Amakusa
Arita
Mt Aso Vulcano
Beppu
Chiran
Ebino Highlands
Fukuoka
Hita
Hitoyoshi
Huis Ten Bosch
Ibusuki
Imari
Izumi
Kagoshima
Karatsu
Kirishima
Kumamoto
Kurokawa
Miyazaki
Nichinan Coast
Nagasaki
Nagashima
Obi
Saga Pottery Route
Mt Sakurajima Vulcano
Cape Sata
Shimabara
Toi Peninsula
Unzen
Usuki
Yabakei
Yamaga
Yanagawa
Yatsushiro
Yufuin
Amakusa
See our Amakusa Island Hopping tour.
Arita
The world famed pottery villages Arita, Imari and Karatsu are on the Pottery Route in Saga Prefecture. Called Imari-ware in the West because Arita's produce was shipped for Imari Port, Arita pottery is characterized by a deep red glaze.
Mt Aso Vulcano
Avoid route 57 when going around Aso-san, Milk Road and Aso Skyline are much nicer and less traffic.
Beppu
Plenty to do and see in the Kannawa Onsen area of Beppu, with enough onsen to keep one occupied day and night for weeks, as well as the famous jigoku ('hells') which are for looking rather than bathing. The hells are well worth a tour over one or 2 days, with a wide variety of boiling pools of different colours and consitencies.
Despite the high tourist concentration in this part of Beppu (as opposed to the city), there are plenty of small back streets that are home to many small and private places to stay, as well as many restaurants and Japanese inns.
Kannawa Onsen is much quieter overall than the hustle and bustle of Beppu city, and has plenty to offer for a variety of travellers. Try to look beyond the major onsens (like the namesake Kannawa) and find some more quaint representations of Japan.
Definitely recommended as a key area to visit while in Beppu.
Myoban onsen is an area up in the north of Beppu up on a hillside. Yu no Sato has a lovely outdoor onsen on the hill with great views over Beppu to the sea. Onsen Hoyoland is famous for its mud bath. The bath is not too hot, so you can stay in for a very long time. Your skin feels fantastic afterwards.
Chiran
Chiran is a small town with a few big attractions. The first attraction is a Samurai village – a collection of 7 homes with attached gardens dating from about 200 years ago. The gardens were derived from Kyoto and Tokyo styles by lords who visited the capitals and wanted to bring the sophistication (and maybe a gardener) back with them. The gardens are in a classical geometric forms where ponds represent oceans, rocks represent mountains and shrubs can represent the hillsides. Many of the gardens have specific viewing locations where the garden blends in with the local hills to form a more complete scene.
Chiran's other popular attraction is the Peace Musuem for Kamikaze Pilots. During World War II, 1036 one way missions were flown from the local airbase to American ships off the coast of Japan. This museum has a number of recovered Japanese aircraft (most from harbour bottoms), artifacts and photos from the time period and stories from families. It provides prerecorded translation headsets free to us foreigners. The museum is quite somber and gives a sense of the loyalty and desperation of the time.
Ebino Highlands
Fukuoka
(Airport – Shinkansen Station)
Hita
Hitoyoshi
Huis Ten Bosch
Huis Ten Bosch theme park is bound to be a hallucinatory experience: amid a lush Japanese mountainscape you suddenly bump into full scale replicas of Holland's famous buildings.
Ibusuki
Imari
Izumi
Japan Biking is based in Izumi and we really recommend you to come to Izumi to experience Japanese countryside life. Izumi features a great farm stay program, very nice for children to experience rural life hands-on. Moreover in winter we have more than ten thousand cranes over from Siberia to hibernate here. Last but not least Izumi features the largest samurai residence preservation district of the once powerful Satsuma crown. By shinkansen train Izumi is 30 minutes from Kumamoto and 20 minutes from Kagoshima.
Kagoshima
(Airport – Shinkansen Station)
Karatsu
You'll never forget riding through the mystic Rainbow Pine Forest
Kirishima
Shiratori shrine 白鳥神社, where the surrounding big trees were used for the construction of Nara's Todaiji Temple colums.
Kumamoto
We admire the cherry blossom at Kumamoto castle, one of Japan's top 3 castles (三名城 Sanmeijō) together with Nagoya and Osaka (or Himeji). Suizenji Park (水前寺公園) is considered one of the most beautiful Japanese gardens in Japan.
Kumamoto Castle is found in Kumamoto City, on the island of Kyushu. The exceptionally thick walls of the castle were designed to withstand a siege. Unfortunately, the castle was not made to withstand fire. Most of the castle (the timber) was destroyed in Satsuma Rebellion in 1877, but its restoration was completed in 2007, which also marked its 400th anniversary. Besides its temples and shrines, Kumamoto also has one of the best gardens in Japan, Suizenji Gardens.
(Airport – Shinkansen Station)
Kurokawa
Miyazaki
Nichinan Coast
Nagasaki
Nagasaki Foreign Settlement: 1859-1941
Nagashima
Obi
Saga Pottery Route
Mt Sakurajima Vulcano
Cape Sata
Shimabara
Shimabara features a tranquil samurai neighbourhood in the shadow of towering Shimabara castle. We eat at Himematsuya, the famous Guzoni restaurant in front of Shimabara Castle. Guzoni is a typical dish from Shimabara. It is said that it was first prepared in 1637 for peasants who participated in the Shimabara Revolt and who were in need of nutricious and very filling food. Traditional Guzoni incorporates more than 13 ingredients such as vegetables, fish, chicken and mochi (rice cake), all of them boiled together in a tasty soup.
Toi Peninsula
Unzen
In the late 19th century, Unzen was a favorite summer resort for European and American residents of Nagasaki, Shanghai, Hong Kong and Manila. Unzen Hell is the number one attraction of Unzen and can easily be located by its high, dense clouds of steam. These springs are highly valued by Japanese even now as according to Buddhist teachings, "If you live in a bad manner, you cannot go to Paradise, but rather you will fall into the Hell of agony."
From the town there are popular walks to Mt Kinugasa, Mt Takaiwa and Mt Yadake. Outside the town, reached via the Nita Pass, is Mt Fugen-dake, part of the Unzen-dake range, with its popular hiking trail.
Usuki
Yabakei
Yamaga
Yanagawa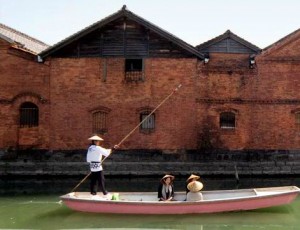 Yanagawa is a small town famous for its canal system, which has a total length of about 450 km. We take a relaxing one hour and a half boat tour along these canals. The term "Yanagawa" means willow river. Most of the canals are lined up with willow trees. The canals had been built around the ancient castle and other building, so there were many buildings, monuments and shrines near the river bank.
Yatsushiro
Apart from its castle ruins and a beautiful garden, Yatsushiro features some modern architecture pieces by Toyo Ito: Municipal Museum, Fire Station and Old People's Home.
Yufuin