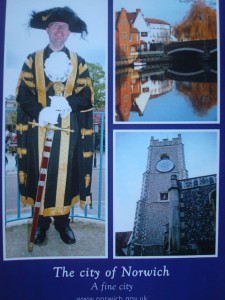 Not the poet, but the cyclist.
Tom came our way today on his 20+kg iron horse. Interestingly, Tom is the Lord Mayor of Norwich. Admire his sartorial taste !
The Lord Mayor is the civic head of Norwich City Council. The office of mayor of Norwich dates from 1403. The office was raised to the dignity of lord mayor in 1910 by Edward VII "in view of the position occupied by that city as the chief city of East Anglia and of its close association with His Majesty" Norwich is one of only 25 UK cities to appoint a Lord Mayor. The appointment is made annually. Members of the majority political group on the council make the decision as to who is to become Lord Mayor. The role is primarily ceremonial and apolitical, which is according to Tom chiefly excellent wining & dining.