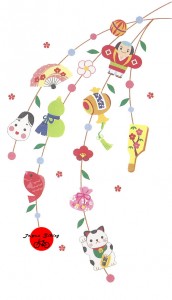 Spring Discount
Now 5% off on all our guided
Japan Biking Spring 2012 & 2013 tours !
March 2012 – New Cherry Blossom Tour
May 2012 – 2500 km Self-Guided Tour
New in 2012 – Kyushu Onsen Tour
Cranes
Fukuoka Architecture Tour
New Cherry Blossom Tour
For next Spring we have designed a new Cherry Blossom Onsen Tour: 265 km in 5 riding days, offering you the best riding in Japan at its most beautiful.
"A visit to Japan is pure indulgence to the senses, even more so during cherry blossom season. Ride along scenic sea coasts, rushing rivers, rustling bamboo forests and majestic mountains as well as futuristic architecture and transportation. Sample delicious regional cuisine, meet polite and candid locals and soak up after a day of cycling in zenlike onsen spas. This Cherry Blossom Onsen Tour combines the very best of biking and bathing."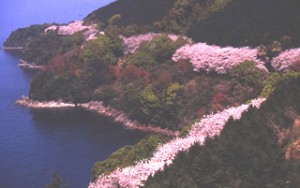 "This stretch of coast is called the 'Mediterranean of Japan' with views not unlike Italy's Amalfi coast. And what is more, this coast is even dotted with cherry blossoms in full bloom."
"We crest the 693m pass after Yatake station. From there we plunge into the Sendai river valley. In Kyomachi Onsen it is time for lunch. Then we follow the old tow path downstream along Sendai river. This is the Land of Kappa, a legendary creature living in the river. The tow path continues all the way to Yunomo Onsen. We stay in a ryokan with a fantastic rotenburo open air bath."
Read the complete itinerary here.
2500 km Self-Guided Tour
Next May the Benson family will be riding an epic 2500 km in Japan across Kyushu and from Kyoto to Tokyo. They will circle 3/4 of Kyushu from Miyazaki all the way to the Shimonoseki Strait. Hopping on a train to Hiroshima and on to Kobe. From there it is on the bike again to visit Kyoto, along Lake Biwa and the Sea of Japan to the Noto Peninsula. Then cutting across Honshu island and the Japanese Alps to end up in Tokyo. Tour report certainly follows.
Kyushu Onsen Tour
Apart from being a cycling paradise, Kyushu is a genuine onsen paradise. Our Kyushu Onsen Tour was created on the basis of Jalan's Kyushu top 15 onsen. It combines the best of the best in biking & bathing, as onsen are often set in a splendid scenery. You'll see: nothing beats a good soak after a day in the saddle.
Cranes
Every year in late October, thousands of cranes, over half of the world populations of White-naped and Hooded Cranes, leave their cold homes in Siberia to overwinter in mild Izumi city.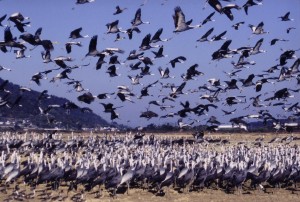 We guide you along the crane's protected roosts in rice fields, see them feeding in nearby onion and vegetable plots throughout the day and visit the reedbeds west of the Minshuku of Matano-san were it all started.  In the evening we experience the unforgettable sight of thousands of cranes returning to roost, while enjoying a cup of tea and a roasted, locally grown sweet potato.
Japan Biking is based in Izumi and we really recommend you to come to Izumi to experience Japanese countryside life. Izumi features a great farm stay program, very nice for children to experience rural life hands-on. Moreover in winter we have more than ten thousand cranes over from Siberia to hibernate here. Last but not least Izumi features the largest samurai residence preservation district of the once powerful Satsuma crown. By shinkansen train Izumi is 30 minutes from Kumamoto and 20 minutes from Kagoshima.
Visit Izumi and enjoy our 1 day Izumi Crane Tour !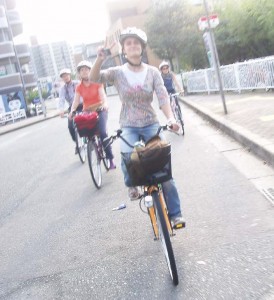 Fukuoka Architecture Tour
In November the Dierick family took the Fukuoka Architecture Tour in cooperation with our friend Tokunaga san at Fukuchari.
On Sunday afternoon they visited Nexus World, coordinated by Arata Isozaki, buildings by Mark Mack and Rem Koolhaas and enjoyed the sunset on the roof of Gurin-gurin, designed by Toyoo Itoh.
On Monday they once more set out from the Fukuchari offica to ride to . Designed by Emilio Ambasz. Then Fukuoka Bank, designed by Kisho Kurokawa, Arato Bridge and Fukuoka Tower.
Surprise of the day was a sneak visit to the Fukuoka Sumo Stable, where they found out that Sumo wrestlers also ride bikes.
Click here for the full picture report.
Happy Tailwinds !
Thomas & Yuko
Subscribe to the Japan Biking Newsletter.
Missed a newsletter ? Check our Newsletter Archives.
Read our blog and follow us on Facebook and Twitter.