In samurai heydays, the Satsuma domain was the power base of the Shimazu clan, a strong opponent of the Shogun far away in Edo/Tokyo. To prevent rebellion, the Shogun forbade the Shimazu's to build castles. Instead, they invented the fumoto, fortified samurai neighbourhoods that were spread out all over the territory. The Shogun wasn't done with Satsuma and when Edo came to an end it was to a large extent thanks to the intellectuals and warriors of Satsuma. To this day many bukeyashiki samurai residences remain in Kagoshima, the modern name for Satsuma. The picture below is the Shimazu Crest (Mon ). Soon you will discover it everywhere.
Duration: 6 days / 6 nights. Pre and post trip accommodation can be booked.
Season: Guided group tours in Spring & Autumn. Private guided tours upon request. Self-guided tours all year round.
Calendar. If the tour is not scheduled or the dates in the calendar don't suit your travel schedule, please contact us for a private or custom tour for you and your group.
Price
Level 2
Rental Bike Details
Start/End: Izumi, Kagoshima. Izumi can be reached by shinkansen bullet train from Tokyo (6h24′), Osaka (3h38′), Hiroshima (2h17′), Fukuoka (1h12′) and Kagoshima (20′). An hourly 1h17′ shuttle bus operates between Izumi and Kagoshima Airport.
HIGHLIGHTS
Put on your armour and feel like a real samurai.
Cycle around terraced rice paddies and deserted beaches
Soak in outdoor onsen hot springs
Tremble when faced with mighty Mt Sakurajima vulcano
See the sun set in the Land of the Rising Sun
Hear the ocean crash on rugged shores
Visit a tea farm and miso factory
Enjoy exquisite Japanese cuisine
ITINERARY
Day 1. Izumi – Ichihino Onsen. 58km.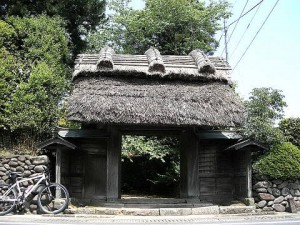 We set out to follow the clear Kiminagawa river upstream: we are climbing the Shibi Pass, 500m. The rewarding downhill ride passes through lush forests and rice paddies. In Satsuma Miyanojo we cross the mighty Sendai river, where legendary kappa monsters lie in hiding. Little roads amid the fields bring us to Iriki, with its fine samurai residences. We stay in Ichihino Onsen.
Day 2. Ichihino Onsen – Kagoshima. 36km, with a 25km optional city ride.
Today also starts with a climb, to 400m. In the descent we catch the first glimp of Mt Sakurajima vulcano towering over Kagoshima and Kinko Bay. We spend the afternoon exploring various sights in Kagoshima, most notably Shiroyama castle.
In "The Last Samurai", it was not the character Tom Cruise portrayed, Nathan Algren, who was the true hero of the story, but rather the samurai he'd come to admire—his captor, Katsumoto, played by Ken Watanabe. The character Katsumoto was based on an enigmatic man from Kagoshima named Saigo Takamori. After the samurai lost their rights, Saigo led the Satsuma rebellion in 1877 that ended at Shiroyama castle with the ritual suicide of Takamori.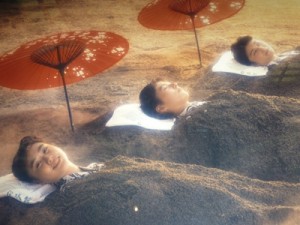 Day 3. Kagoshima – Ibusuki. 67km.
From Kagoshima we head south along Kinko Bay. When we look back, we see Mt Sakurajima growing smaller, still the sight remains impressive. With the wind in our back we roll into Ibusuki, famed for its steaming sand baths. Time for well-deserved relaxation and a delicious kaiseki dinner.
Day 4. Ibusuki – Chiran. 65km.
We are now nearing the southernmost point of Satsuma peninsula. With fabulous views of Kaimondake, the perfectly cone shaped little Mt Fuji. From here it goes back north, through rolling tea fields to Chiran.
Chiran is a small town with a few big attractions.  The first attraction is the Peace Musuem for Kamikaze Pilots.  During World War II, 1036 one way missions were flown from the local airbase to American ships off the coast of Japan.  This museum has a number of recovered Japanese aircraft (most from harbour bottoms), artifacts and photos from the time period and stories from families.  It provides prerecorded translation headsets free to us foreigners.  The museum is quite somber and gives a sense of the loyalty and desperation of the time.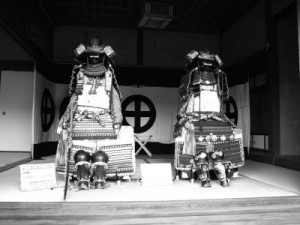 Chiran's other popular attraction is a Samurai village – a collection of 7 homes with attached gardens dating from about 200 years ago.  The gardens were derived from Kyoto and Tokyo styles by lords who visited the capitals and wanted to bring the sophistication (and maybe a gardener) back with them.  The gardens are in a classical geometric forms where ponds represent oceans, rocks represent mountains and shrubs can represent the hillsides.  Many of the gardens have specific viewing locations where the garden blends in with the local hills to form a more complete scene.
Day 5. Chiran – Kushikino. 69km.
From Chiran vast green tea farms are laid out on our way to the coast. Fresh scents from tea leaves give you refreshed feeling throughout the ride. From Fukiage Beach we ride along a cyclepath spreading along the coast for 25km. Relax and cruise with the cool sea breeze on the sand dunes.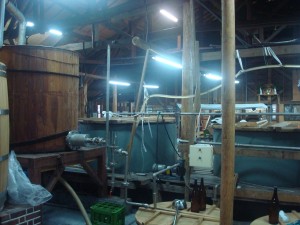 Satsuma is famous for its shochu, a distilled alcohol beverage native to Japan. The shochu produced in this area is distilled from sweet potatoes. On our way to Kushikino we visit a 100 year old brewery and are able to taste several kinds of excellent Shochu.
Luckily our destination is not too far: the fisherman town Kushikino, which is the biggest port in Japan for blue fin tuna. Maguro ramen (noodles) is a local specialty!
Day 6. Kushikino – Izumi. 80km.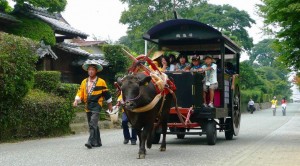 This morning we leave Kushikino and continue north along the coast. Stunning views on the way to Akune. Now it is one last stretch to Izumi. In cherry blossom and autumn colour season, Kogawa Dam Lake is well worth the detour. To finish our trip in samurai style, we visit Izumi's samurai neighbourhood and samurai residence.