Nothing beats a steaming onsen bath after a day of cycling. And we are lucky: apart from being a cycling paradise, Kagoshima is onsen heaven. Of course these hot springs are often located near volcanoes, adding an exciting aspect to the tour. Japan Biking's Onsen & Volcanoes Tour: combining the best of biking and bathing in Kagoshima.
Duration: 4 days / 5 nights, 265 km
Season: Guided group tours in Spring & Autumn. Private guided tours upon request. Self-guided tours all year round.
Calendar. If the tour is not scheduled or the dates in the calendar don't suit your travel schedule, please contact us for a private or custom tour for you and your group.
Level 2
Price
Rental Bike Details
Start/End: Izumi, Kagoshima. Izumi can be reached by shinkansen bullet train from Tokyo (6h24′), Osaka (3h38′), Hiroshima (2h17′), Fukuoka (1h12′) and Kagoshima (20′). An hourly 1h17′ shuttle bus operates between Izumi and Kagoshima Airport.
HIGHLIGHTS
Cycle around active volcanoes
Stroll in sultry Kagoshima
See the sun set in the Land of the Rising Sun
Hear the ocean crash on rugged shores
Visit a tea farm and miso factory
Soak in Japan's only shrine onsen hot spring bath
Enjoy exquisite Japanese cuisine
ITINERARY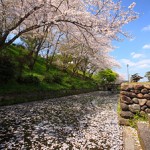 Day 1. Izumi – Ichihino Onsen. 56km. Visit Izumi's samurai neighbourhood and samurai residences. We leave town behind and follow the swift Kiminagawa river upstream: we are climbing the Shibi Pass, 500m. The rewarding downhill passes through lush forests and rice paddies. In Satsuma Miyanojo we cross the mighty Sendai river, where legendary kappa monsters lie in hiding. Little roads amid the fields bring us to Iriki, with its fine samurai residences and onsen hot spring resorts.
Day 2. Ichihino Onsen – Kagoshima – Furusato Onsen. 50km. Today also starts with a climb, to 400m. In the descent we catch the first glimp of Mt Sakurajima volcano towering over Kagoshima and Kinko Bay. After exploring Kagoshima we take a ferry to Sakurajima and ride on the slopes of the volcano to Furusato Onsen. This marvellous onsen is unique in its kind, it combines a shrine and an ocean front onsen.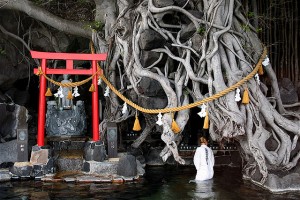 Day 3. Furusato Onsen – Kirishima Onsen. 77km. Along Kinko Bay. When we look back, we see Mt Sakurajima growing smaller, still the sight remains impressive. Then we wave goodbye and head inland. The landscape changes from rice fields to a rough mountain landscape. We visit the Kirishima Shrine, the most important shrine in Kagoshima prefecture. The shrine is very well maintained and set in beautiful surroundings. It is known for its red highlights which seem to permeate the place. Freewheeling along the slopes of the Ebino Highlands we roll into Kirishima Onsen, time for a well-deserved bath and a delicious kaiseki dinner.
Day 4. Kirishima Onsen – Izumi. 76km. The Kirishima Green Road (What's in a name !) leads us back to the banks of Sendai river. Now we are rolling to Isa town ! Hishikarisen Rd is ground down and it is one last stretch to Izumi. In cherry blossom season, Kogawa Dam Lake is well worth the detour.