Apart from being a cycling paradise, Kyushu is a genuine hot spring (onsen) paradise. Our Kyushu Hot Springs Tour was created on the basis of Jalan's Kyushu top 15 onsen. It combines the best of the best in biking & bathing, as onsen are often set in a splendid scenery. You'll see: nothing beats a good soak after a day in the saddle.
Duration: 12 days / 13 nights
Season: Guided group tours in Spring & Autumn. Private guided tours upon request. Self-guided tours all year round.
Calendar
If these dates don't suit your travel schedule, please contact us to talk about operating a private tour or designing a custom tour for you or your group.
Price
Level: 3
Rental Bike Details
Start & End: This tour starts and finishes in Izumi. Izumi can be reached by shinkansen bullet train from Tokyo (6h24′), Osaka (3h38′), Hiroshima (2h17′), Fukuoka (1h12′) and Kagoshima (20′). An hourly 1h17′ shuttle bus operates between Izumi and Kagoshima Airport.
HIGHLIGHTS
Relax in the Unzen onsen that was once used by the first foreigners as a summer retreat from Nagasaki's heat

Awe at the largest vulcano caldera in the world, Mt. Aso

Cross the magnificent Kuju plain via the famous trans-Kyushu road nr. 11 known as the Yamanami Highway

Visit the Hells in Beppu.

Soak in outdoor onsen hot springs every single evening

Enjoy exquisite Japanese cuisine
ITINERARY
1 -80km: Izumi – Amuri Onsen
Izumi features a samurai neighbourhood and is also the winter home of Siberian cranes. We may visit the Crane Park museum.
A stretch of coastal road and Kuranoseto Bridge brings us to Nagashima. Just after the bridge the road station offers an ideal rest stop. Along the sea we further enjoy the tranquility of Japan's small islands. People fish or farm here, main crop is sweet potato. To kill the long winter evenings the islanders have developed a unique art of making giant statues out of straw, cans or styrofoam. Try to spot as many as you can !
Nagashima's rolling coastal road ends at the Kuranomoto Ferry Terminal. We catch a ferry enjoying the beautiful views as Nagashima shrinks and Amakusa grows bigger.
At the road station at the Ushibuka ferry terminal you can see the catch of the day while admiring the swinging Haiya Bridge designed by Renzo Piano. The setting sun accompanies us on our last winds before we reach our hot bath for the night.
 2 – 80km: Amuri Onsen – Unzen
Amakusa is famed for its hidden Christians. In the early 17th century the rulers began their crackdown on Christianity. Many Christian converts were thrown into the boiling Unzen Hell, forcing them to escape to Amakusa. Amakusa proved an excellent hiding place and their descendants still live here to this day.
From Kawaura we head inland to cut across the island to the ferry in Oniike. There is a boat going every 45 minutes. We cross the Amakusa-nada Sea and soon our wheels are back on Kyushu's mainland soil. One last task on the list: a 15 km climb up Mt. Unzen volcano. In the late 19th century, Unzen was a favorite summer resort for European and American residents of Nagasaki, Shanghai, Hong Kong and Manila. Unzen Hell is the number one attraction of Unzen and can easily be located by its high, dense clouds of steam.
3 – 55km: Unzen – Nagasaki

We won't linger in hell… Next is an exhilirating downhill to Tachibana Bay. We ride along the bay on quiet roads, with magnificent views of Mount Unzen volcano in our back.We're approaching Nagasaki city but first we have to cross Nagasaki peninsula. One hairpin after the other up the old postal road from Tachibana Bay and then a swift downhill into town.
Due to its proximity to China and Korea, Nagasaki always opened one eye to the world. After the Portuguese and Dutch opened a trading post in Nagasaki, it became known as a cosmopolitan port brimming with exotic curiosities from the Western World. Chinatown, Dejima and Glover Garden are all worth a visit. The Peace Park and the Atomic Bomb Museum show a darker page of Nagasaki's rich history.
4 – 75km: Nagasaki – Ureshino
On the way from our hotel we spot the Megane 'Glasses' bridge.Whereafter we hit the pedals and immediately start the climb out of Nagasaki Bay. First we follow the bigger road along Urakami river but soon we find a little mountain road.After the climb and following downhill we join the road along Omura Bay. We pass Nagasaki airport on an artificial island in the bay. Around here traffic can be more busy. Leaving the bay behind we start climbing again but not for too long as our bath is waiting for us in Ureshino.
5 – 100km: Ureshino – Hirayama Onsen
Some little climbs before we reach the Ariake Sea. After that it is endless rice fields and some big bridges to round the Ariake Sea.The canal town of Yanagawa is a perfect spot for our lunch stop. Maybe we even catch a boat ride.
Yanagawa is a small town famous for its canal system, which has a total length of about 450 km. We take a relaxing one hour and a half boat tour along these canals. The term "Yanagawa" means willow river. Most of the canals are lined up with willow trees. The canals had been built around the ancient castle and other building, so there were many buildings, monuments and shrines near the river bank.
Done with the entertainment and back on the saddle, for some more climbing to our destination for today: Hirayama Onsen.
 6 – 70km: Hirayama Onsen – Kurokawa Onsen
Surrounded by big mountains we have one pass to climb along Kikuchi river before a long downhill and another climb to Kurokawa.
Kurokawa is a charming little town with two streets and a bunch of hot springs dotted around. We might visit Yama Mizuki Onsen, with its outdoor bath sitting on the edge of a fast moving creek, giving you the option to freeze yourself then jump back in the hot water.
7 – 72km: Kurokawa Onsen – Beppu
It is becoming a tradition: our climbing begins straight away from the ryokan.
Today it is all ups and downs in the shadow of Kyushu's highest mountain, Mt Kuju (1791m) and Mt Yufu-dake.
Today we mainly follow the famous Yamanami Highway with beautiful views. We take some bypasses as the trafic can be quite busy. Of course there is some serious climbing today, but we are more than rewarded by the stunning views. We also pass picturesque Yufuin sitting in the shadow of the majestic twin peaks of Yufu-dake.
Then Beppu and relax at Japan's most famous onsen hot spring town. We take a shot at the local hell-steamed cuisine ( jigoku-mushi). All ingredients are steamed in special cauldrons over the natural fumes evaporating from the earth.
8 – 45km: Beppu – Nagayu
A rather short day today to Nagayu. So you can still spend the morning sightseeing in Beppu. The seven Beppu Hells in Kannawa onsen are a must visit, or at least some of them. The milky white pond at Shiraike Hell is truly beautiful. The Beppu Bamboo Museum, already en route to Nagayu is another place worth a stop.
9 – 70km: Nagayu – Jigoku Onsen
In Taketa, we visit the ruin of Oka Castle, which was constructed by a local warrior to house Yoshitsune Minamoto, a hero in Kamakura Period. If it's the season, cherry blossoms bloom plentiful. Taketa has a fair amount of feudal architecture, buke yashiki, most notably Taketa Manse built in 1818.
After several ups and downs we finally crest the rim of Mount Aso's caldera and it is downhill into Minami–aso plain. At the lowest point we find refreshment at Shirakawa spring. If you still have the legs, we ride all the way up to the top of the volcano.We get rewarded when we reach the Nakadake crater. If the vulcano is not too active, we are allowed a peak across the rim into the bubbling cauldron of primordial soup. If you continue still a couple of kilometres beyond Nakadake, you can also visit the Vulcano Museum, Kusasenri grasslands and curious looking Komezuka (Ricebowl Hill) with striking views on Aso plain and surrounding caldera rim. Legend is that the caldera was once a lake, but one day the god of the mountain kicked open the only break emptying the water and leaving the plain fit for cultivation.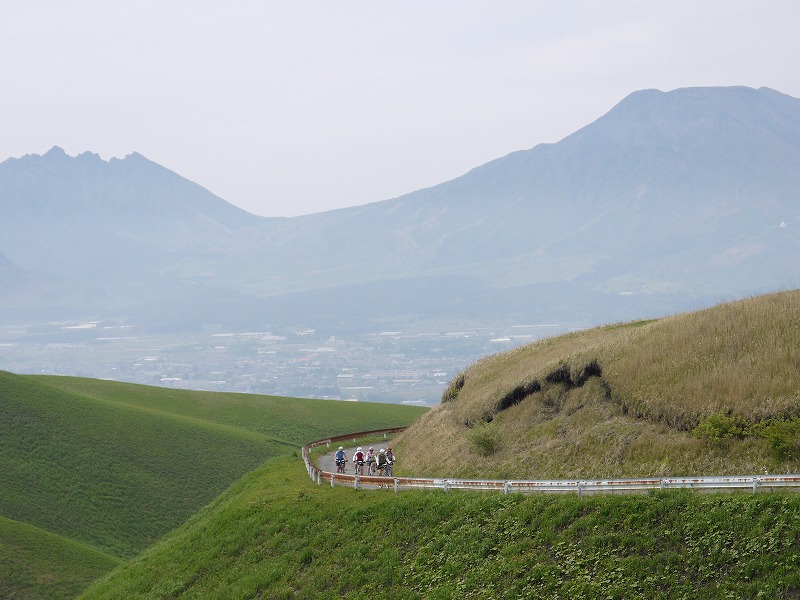 Time for a U-turn and back down the mountain until we turn off the main road into a little forest road. You'll have to jump a couple of fences before reaching your lodging at Jigoku onsen.
We soak in the 3 different onsen areas of the complex. The rocky outdoor baths (separate gender), "Roteniwaburo", are quite nice. The water temperature is great, they're rarely crowded, and the view is spectacular. The Sparrow Bath, "Suzumenoyu" is mixed gender, and has very acidic water, so take off any jewelry before entering.
10 -67km: Jigoku Onsen – Samata-yu
Away from here… We cross Minami-asoplain and start climbing the rim. You could take the tunnel but then you miss the last majestic views of Mount Aso. Soon we descend into the Kumamoto plain and we skirt the mountains until heading back up to our onsen for the night.
11 – 78km: Samata-yu – Hitoyoshi
Today you'll be riding in the Gokanosho prefectural park, famed for its autumn foliage. It's quite a hilly day and you'll be happy when you reach Hitoyoshi.
Hitoyoshi is a castle town once prosperous as a river port, where lumber was collected and distributed. But now it is time to relax in one of the 80 onsen. We stay at the superb Hitoyoshi Ryokan.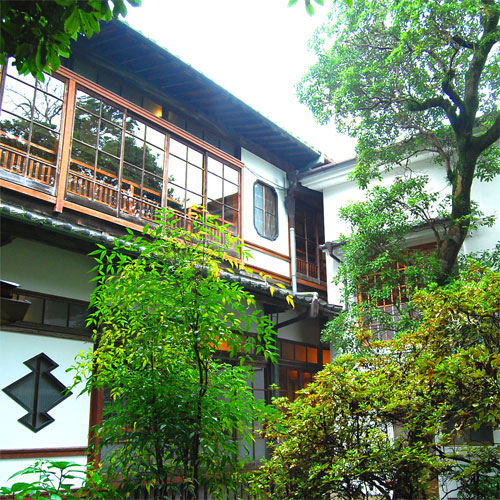 12 – 72km: Hitoyoshi – Izumi
 Up and through the Kyushichi tunnel to Isa. Then scenic Rte 118 to the Uwaba highlands and down into the Izumi plain.