Every year in late October, thousands of cranes, over half of the world populations of White-naped and Hooded Cranes, leave their cold homes in Siberia to overwinter in mild Izumi city. Come to Izumi to see this incredible spectacle !
Duration: 1 day.
Season: From 1 November til 31 March. Private guided tours upon request.
Calendar. If the tour is not scheduled or the dates in the calendar don't suit your travel schedule, please contact us for a private or custom tour for you and your group.
Start & End: Izumi, Kagoshima.
Level 1: a flat 35km ride.
Rental Bike Details
Price
Booking
ITINERARY
You set out from your accommodations or from the train station around 9am and come back around 5pm. It is a 35km tour, leaving you ample opportunity for bird watching. Lunch, morning and afternoon snacks are included in the tour price. Optional English speaking bird guide. In case you want to bring your photo and spotting equipment, you can borrow sturdy Ortlieb bike bags.
We visit the Crane Park Museum to understand everything about the cranes. Then we guide you along the crane's protected roosts in rice fields, see them feeding in nearby onion and vegetable plots throughout the day and visit the reedbeds west of Tsurumitei, the Minshuku of Matano-san were it all started.  Lunch is ramen or udon with Tsurumitei's home made miso. In the evening we experience the unforgettable sight of thousands of cranes returning to roost, while enjoying a cup of tea and a roasted, locally grown sweet potato.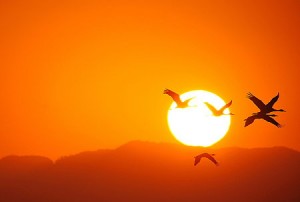 CRANES IN IZUMI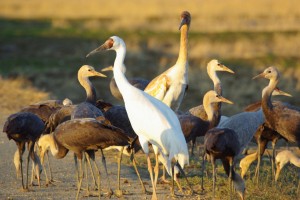 Around 3000 White-naped Cranes and 10,000 Hooded Cranes overwinter in Izumi. Smaller numbers of Common Crane (subspecies lilfordi), Sandhill Crane, and also some hybrid Hooded x Common Crane hybrids can be picked out from the throng. There is also a good possibility that some rarer crane species may have joined the flock accidentally: Siberian, Demoiselle and Red-crowned Crane have all been recorded wintering in recent years.
The Arasaki district of Izumi has been a major crane roost since the Genroku era (around 1695), which was a few decades after the Shimazu Domain completed the first reclamation of the district by drainage. The Natural Treasure Conservation Act has designated this district as a national natural treasure and a wildlife protection area since March 3, 1921.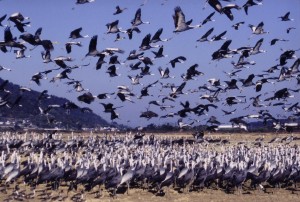 From 1962, the crane populations were further boosted by the artificial feeding by the rice farmer and birdwatcher Matano-san. With great success, measured both by the current number of cranes as well as by the increasing environmental efforts by the local government, which has recognized the touristic impact. They even buried the electric and telephone wires underground for the cranes, a very rare feat in Japan. Pictures of the cranes can be found all over Izumi city. Buses with tourists watch only from one or two spots, so the disturbance seems minimal. In a unique educational programme, volunteer high schools students get up in the wee winter hours and brave the cold coastal winds to count the birds.
Not only cranes are to be seen in Izumi. The fields near Izumi also contain flooded pools that attract around 10,000 dabbling ducks. Just outside Izumi is a dam where you can search for Mandarin Duck, Japanese Wagtail and Crested Kingfisher.
Izumi plays host to one of the greatest avian spectacles on earth, with thousands of White-naped and Hooded Cranes spending the winter here, occasionally joined by small numbers of Sandhill and Common Cranes. (InfoHub)