Japan's frenzied pace is slowing down on the islands to a healing harmony with sea and seasons. This harmony reflects in the hospitality of island folk and their quiet villages, reflects in the rich tastes of terroir products and local cuisine. No wonder Japan's first Christians found a perfect hideaway on the islands of Amakusa. You will surely meet their hero Amakusa Shiro.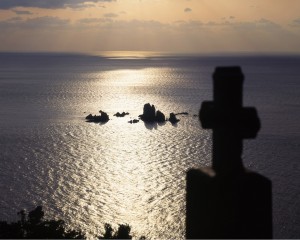 Duration: 5-6 days / 6-7 nights
This is actually a 6 day tour, but day 4 & 5 can be replaced by a one day 47km Hondo – Shishijima ride.
Season: Guided group tours in Spring & Autumn. Private guided tours upon request. Self-guided tours all year round.
Calendar. If the tour is not scheduled or the dates in the calendar don't suit your travel schedule, please contact us for a private or custom tour for you and your group.
Price
Level 2
Rental Bike Details
Start/End: Izumi, Kagoshima. Izumi can be reached by shinkansen bullet train from Tokyo (6h24′), Osaka (3h38′), Hiroshima (2h17′), Fukuoka (1h12′) and Kagoshima (20′). An hourly 1h17′ shuttle bus operates between Izumi and Kagoshima Airport.
HIGHLIGHTS
Cycle around terraced rice paddies and deserted beaches
Stare out to China from the Castle of the Lying Dragon
Catch your own fish for barbecue
See the sun set in the Land of the Rising Sun
Hear the ocean crash on rugged shores
Visit a tea farm and miso factory
Soak in outdoor onsen hot springs
Enjoy exquisite Japanese cuisine
ITINERARY
Day 1. Izumi – Sunset Nagashima. 42km. Visit samurai neighbourhood and samurai residence. Visit Crane Museum and crane nesting grounds. From late October to late March, thousands of cranes leave their cold homes in Siberia to spend winter in mild Izumi city. We cross the spectacular Kuranoseto bridge to Nagashima island. Riding along the rolling coastal road we arrive at the Sunset Nagashima onsen hot spring resort. Makes for a splendid sunset while soaking the day's soreness away.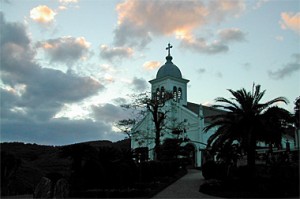 Day 2. Sunset Nagashima – Oe. 45km. Ferry to Ushibuka on Amakusa island. Fresh fish at ferry port. Afternoon optional onsen in Kawaura. Late afternoon for the last stretch along the breathtaking Sunset Line. Admire the churches of Sakitsu & Oe.
The Sakitsu church has especially interesting architecture with a tatami floor, creating a unique interior where Christian culture and the simple elements of fishing village life in Amakusa are juxtaposed.

Day 3. Oe – Hondo. 60km
Further on following the Sunset Line. Postcard views on the rocky shoreline. We arrive at the Castle of Tomioka, also known as the Lying Dragon Castle. Fantastic view from the tower. We see the 'Beak of Sand' sandbank. On the horizon, across the Amakusa-nada Sea, looms the active vulcano Unzen. After all this excitement, time for a bento boxed lunch picnic on the beautiful beach.

Next activity on our agenda: dolphin spotting near Tsujishima island. Optional boat excursion. Tired but content we reach Hondo, for a revitalizing curry at Baobab restaurant and a dito night at Nagomiyado.
Day 4. Hondo – Hinoshima. 49 km.
The traditional breakfast at Nagomiyado gets us through most of the morning ride. We are stunned by the rice fields of Osakuyama, arguably the most beautiful terraced rice fields of the Japanese archipel.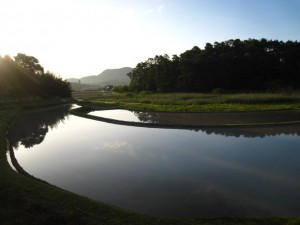 Day 5. Hinoshima – Shishijima. 63 km. Take the 13:50 ferry from Tanaka to Shishijima, the Lion's Island. Volunteers still have plenty of time to ride the gorgeous 28km circumference of this tiny island.
Day 6. Shishijima – Izumi. 66 km. A short warm-up ride to the port and the 8:40 ferry ships us back to Nagashima. The quiet coastal road along Yatsushiro Sea leads us back to mainland Kyushu. Once more the Kuranoseto bridge and further up the Yatsushiro Sea coast back to Izumi.