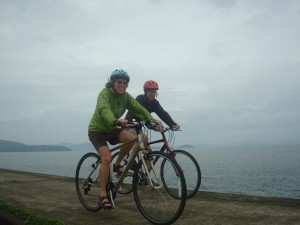 Lorie & Doug visited Japan to attend the Presentation Ceremony of the 2011 Kyoto Prize awarded to Lorie's father Dr. John Werner Cahn.
As avid birdwatchers, they also ventured out to Izumi to admire the thousands of cranes that winter here every year from end of October til March. They weren't disappointed, as already 7000 cranes, half of the winter population had arrived. Waking up to the sound of the birds, getting up before sunset to see them leave their roosts, sneaking up on feeding red-naped cranes on two wheels, all experiences never to forget.
Thank you for the visit, Lorie & Doug !