Just home from our delightful Cherry Blossom Onsen tour. Here's a little write up.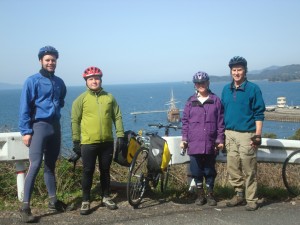 Splendid weather on Wednesday and Thursday, you could really see the blossoms starting to bloom in front of your eyes. For two days along the Yatsushiro Sea, mostly in the Ashikita Coast natural park. Margaret kept looking for the elusive bamboo bird. Meanwhile, Peter found the road quite 'vallonnee'.
On Friday those early flowers unfortunately got washed away by a whole day of rain; fortunately it was still warm. We were also lucky to find shelter in Moritaka's knife shop and workshop and at Mick's for coffee. And Tuomo was happy. Then we made good progress along the Kumagawa river to a heartening udon noodle lunch at the Kyusendo caves. At Hitoyoshi Ryokan guesthouse we were welcomed with that typical Japanese hospitality: dry towel for us and our bags got dried as were our shoes with newspaper and hot air blower. Then it was time for the hot bath.
Saturday morning brought cold western winds. But after a visit to Aoyaso shrine and Hitoyoshi castle, we first go warm climbing to Yatake station. There a wrong turn led to a road washed away by mudslides. A short backtrack got us over the pass. An exhilarating descent brought us to the Sendaigawa valley. Time for lunch in Kyotoonsen. Peter was confident about the winds, they went downstream like us. But soon hard reality set in: it was the strong wind that made the water look like it was flowing upstream. We had to go west, into the wind. On the levee we ground our teeth and chainrings all the way to Yunoo onsen. The hottest bath of our trip fizzled our legs back to life. Beer and sake did the rest.
Sunday morning didn't bring respite. At Soginotaki waterfalls, we decided to leave the funneling valley for a shortcut back to Izumi. What a good idea. The beautiful valley gave us sun and cherry blossoms which we both cherished with a little hanami picnic at Lake Kogawa.