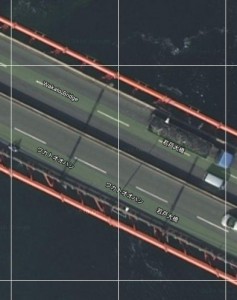 Is there a cycle path on Wakato Bridge ?
No, according to Wikipedia !
"The Wakato ferry existed before the bridge was built; it has been retained by the city for pedestrians and cyclists, as the bridge is nowadays reserved for motor vehicle traffic only, since a large number of suicides has occured from its deck. The cheapest ferry ride in Japan[citation needed], the three-minute journey costs 100 yen each way for adults, and 50 yen for children and older people[citation needed]. Bicycles can be transported for an additional 100 yen[citation needed]."
So I got to Wakato Ohashi, the bridge and channel that the two cyclists had told me about. This red bridge reminded me a little bit of San Francisco's Golden Gate Bridge! As cyclists were not allowed on it, I took a three minute boat ride to cross to the other side.